TIME OF THE NEW SPRING MOON ... RISES THE LUNAR REVEALING LIGHT,
NOW THE WARRIORESS RAISES THE SLICING SCIMITAR OF TRUTH

Howls, Yowls, Growls and 'No Scowls or Big Scowls' ShapeShifter Lovers!
Currently PLUTO IS IN AQUARIUS -- THE OLD ESTABLISHMENT COLLAPSES ONLY TO BE REBUILT BY A NEW RENAISSANCE VISION...
In this darkening and brightening world I sometimes feel lost in the constant chaos. Yes, wishing I could make an instant escape into my fictional world, Wolf Peak Territory.

Plus, I am thoroughly frustrated because I don't have a workable setup to write my books... deep sighs... All good thoughts and prayers are welcome. As I offer to you as well, during this major max-crossroads in planetary history/herstory.
LOVE AND GOOD TO ALL!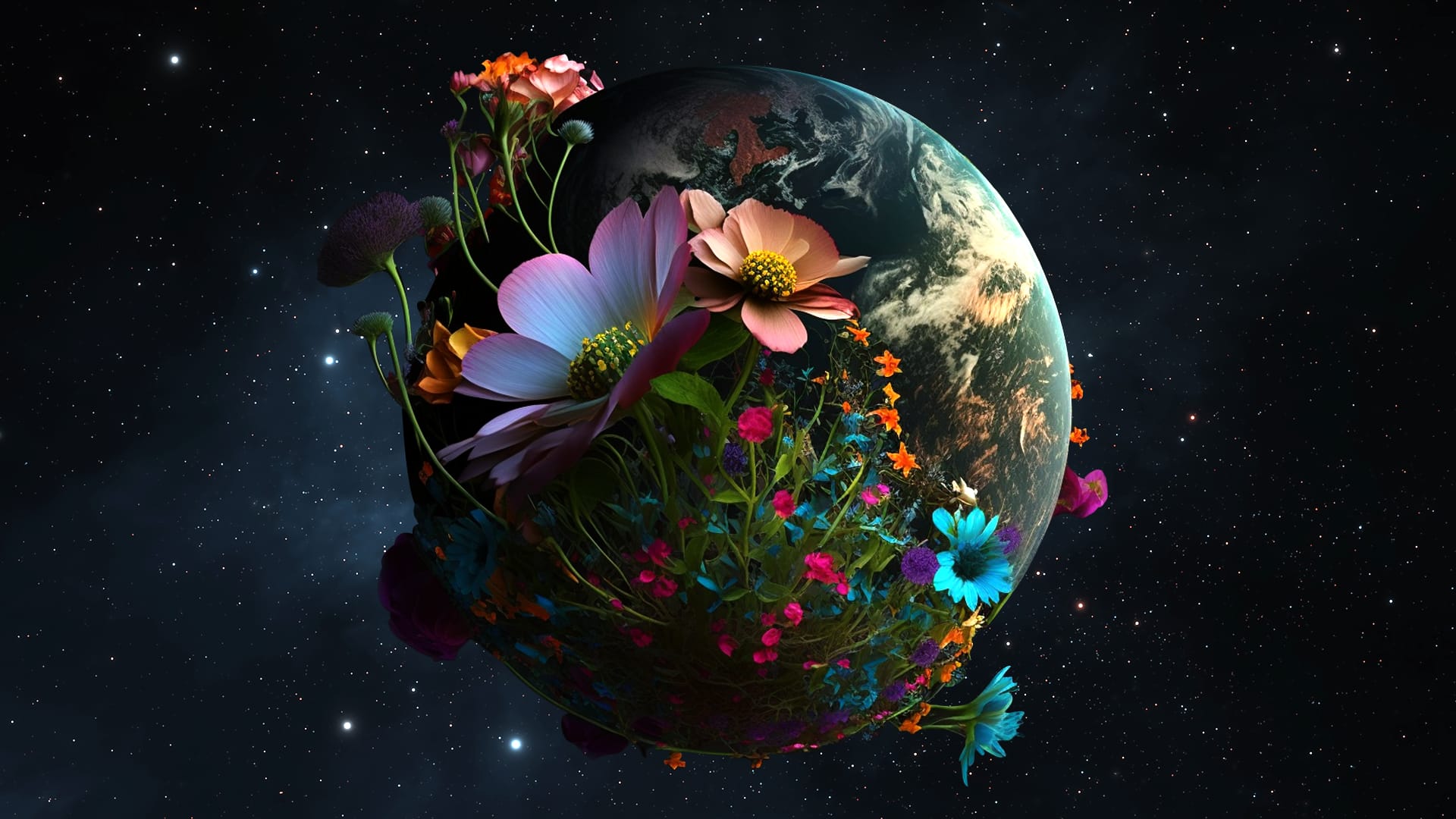 Beloved Earth Blooms ... Time to Smell the Sacred Flowers ... starwalk.com
The Fae Queen Rides Upon the Rare Wolf of Heart-Wild Freedom

Wolf Songs Celebrating Springtime in Wolf Peak Territory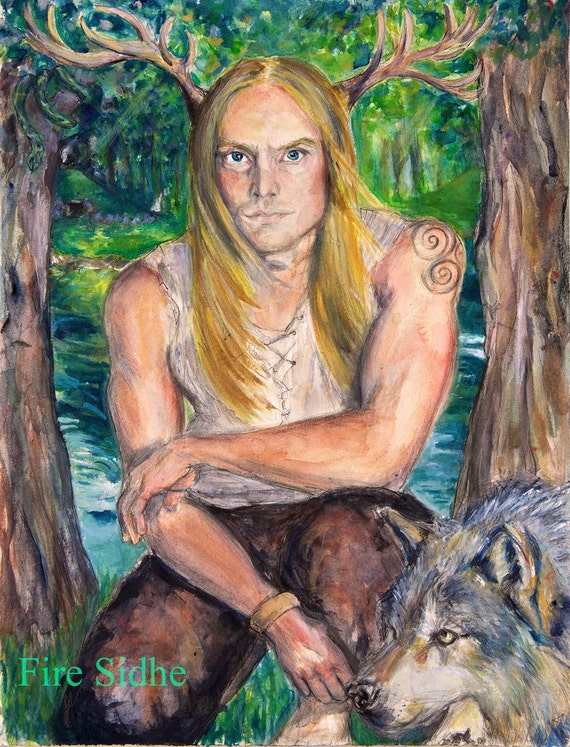 Cernunnos Walks With the Guardian Wolves of the Peak

What is Cernunnos the god of?
Cernunnos was an ancient Celtic god who represented nature, flora and fauna, and fertility. He is frequently depicted in Celtic art wearing stag antlers or horns and usually a torc around his neck.
Mar 1, 2021-- "search engine"

Breeze-kissed Goddess weaves a bold spell of vital life force for ALL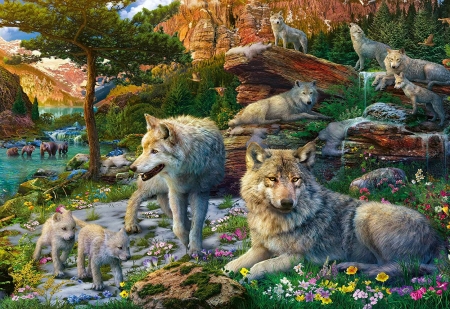 Spirit-Free to Live, Love and Breathe in the Beauty of Mother Nature... what could be superior?

The Shapeshifter Mountain Lion Babies Abound Greeting Spring... playing and cuddling with everyone.

Protecting Wolf Peak, the Immortal Viking Warriors Flash Their Sun-Powered Blades

Once Again, She Runs With the Wolves, With Every Supernatural Being, With all the Humans who live in the Peak... she is beloved by ALL.

Meeting Her Big Bad-ass Wolf in the Deep Forest... he is her shapeshifter lover and patrols the Peak's hidden lands...

The Stag Gods Roam Throughout the Peak Bringing Good Bounty, Nature's Plenty ... that is the real wealth of the Universe...

A Divine Deva, She Cares For the Birds -- Tiniest to the Ancient Thunderbirds

Bringing the Plasma-Fierce Sun ... All enemies of Earth Are Destroyed... Hallelujah!
Spring Has Sprung, the Gorgeous Awakening is HERE, Arise. Take Back the Goodness of Life, Liberty, and Happiness...

Spring Goddess Painting by Solveig Katrin
Shine On! Ancient One From Atlantis...

Lugh sometimes known as the 'Shinning One'. A sun god of the Tuatha De ...

Tartarian Princess, Alive and Well in Wolf Peak.. She teaches true history to the Children

New Warrioress Arrives From an Antediluvian World still Living and Thriving in Antarctica... yes, beneath the ice inside the huge, volcano-warmed caverns...

Shapeshifter Angel Wolves Create God's Magical Spring Rainbows For the Children... Above their Peak Playgrounds

A Rose Fae Seeding the lands with pink Lovely Blooming Roses... Heavenly!

At Home in Wolf Peak, Another Ruthless Warrior Protects and Champions Freedom... he is looking for his lifelong mate...

Springtime Joy, Every Family is Priceless and Always Cherished

Mountain Lion Queen, She Who Savage Stalks Enemy Infiltrators... they never win against her, her Guardian Squad.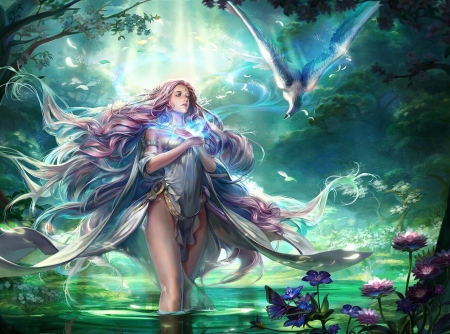 Lady of the Serene Springtime Waters... Time to Renew Mind, Body, Heart, Soul and Spirit.

Beginning Spring, the Golden Majestic Kiss of the Sun Ruler... Cosmically Nourishing, Loving Mother Earth, and all of her Life Beings

Young Werewolf Shifter, euphoric in the emergence of the greening forest... his Guardian pack is essential to patrolling the Peak borderland.
Heart Afire. Springtime Dancing Over the Incomparable Beauty of a Blooming Meadow

Wych Beauty and the Hulking Wolf Beast... one zap from her finger and he's crashing-down for the count... however he has been summoned by the Peak's Witch Council to protect her.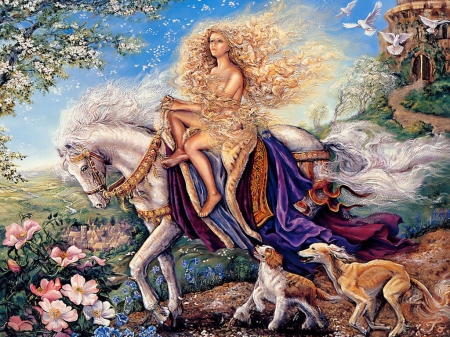 Once upon a time, in the Ancient of Ancient Days, When Life was Marvelous, When Happiness Reigned, When Springtime Was Eternal

The Sheer Wild Splendor of Life in Wolf Peak Territory

Take a Long Stroll in the Sweet-Smelling Power and Love of Nature's Super Healing Frequencies

He has Travelled From a Feline World to Assist the Wolf Peak Community in Saving the Good Sentient Beings of Earth from the Darkside... for, We Are Truly Sacred...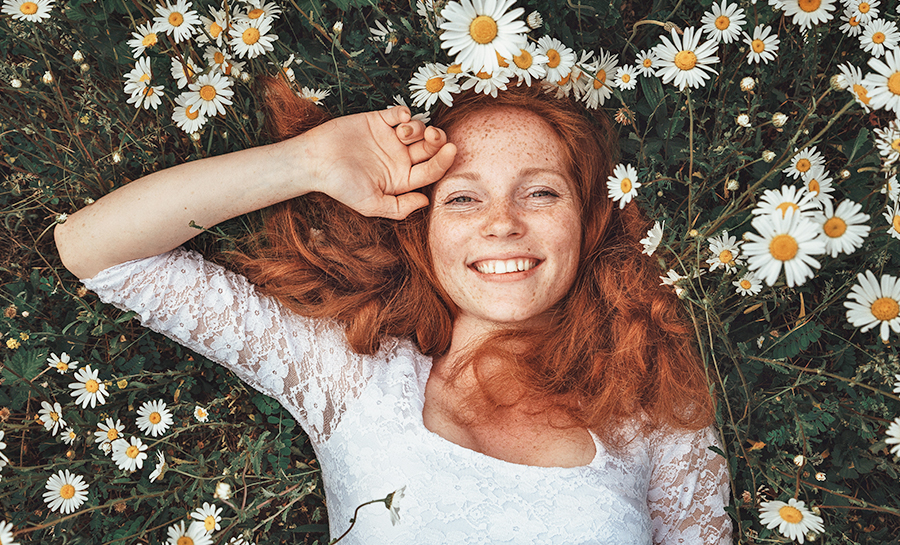 Delighting in a Field of Daisies ... pushing up daisies does not happen for those living in Wolf Peak...

youaligned.com
The Kougar Alive and Untamed in Wolf Peak Territory
Mountain Lion Painting by Jurek Zamoyski
fineartamerica.com
Wishing you love and passion on the wild side ~